Mammography can be used as a screening technique for the early detection of breast cancer in asymptomatic women. It plays a central role in the early detection of breast cancers because it may show changes in the breast up to 2 years before a patient or physician can feel them. Mammography is also used as diagnostic imaging to detect breast disease in women with anomalies, such as a lump, pain, nipple discharge, or a change in breast size. Diagnostic mammography is also performed after an abnormal screening mammogram to further evaluate a suspected lesion on the screening examination. Whereas screening mammography detects clinically unsuspected occult abnormalities in asymptomatic women, diagnostic mammography characterizes the clinically or screen-detected anomalies to differentiate between benign and malignant lesions. Mammography is routinely performed in all patients with a diagnosis of breast cancer to exclude cancer in the other breast or multiple foci of cancer in the same breast. Mammography is routinely used to follow up patients after treatment of breast cancer.

Mammography is especially useful for detecting non-palpable tumours; this in turn can lead to early diagnosis and early treatment with improved survival. Mammography screening for women aged 50–69 years is effective in reducing breast cancer mortality by about 40%. Mammography screening is most effective in women aged 50 years and above and is not recommended in women below 40 years of age. High breast density in younger women makes identification of lesions on mammography difficult.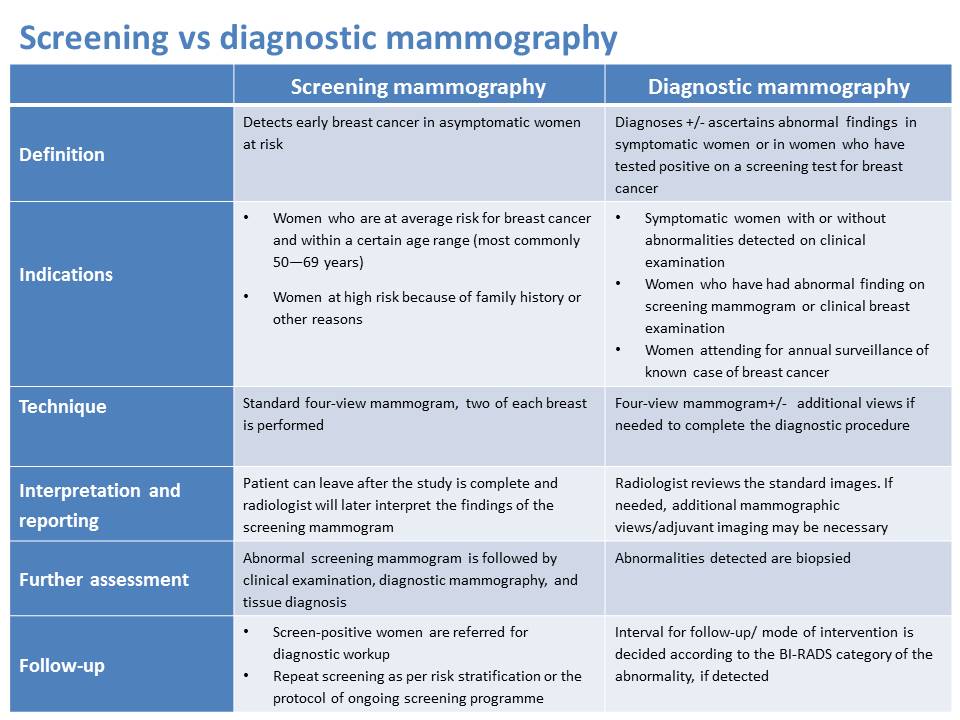 Mammography is performed to obtain at least four views, two of each breast. The CC view is taken from above, and the MLO view is captured at an angle and includes the axilla. Additional mammographic views may be taken for diagnostic mammography, with images to show the abnormality from different angles. Patient preparation, positioning, compression, and technical factors are the same whether a screen-film mammography or digital mammography machine is used.