Home
/
About SCR
/ Training

TRAINING
These courses were designed for medical staff of all levels (gynaecologists, doctors, nurses, midwives, health workers). Between December 1999 and November 2009, 653 doctors/gynecologists and 210 nurses/mid-wives/health workers were trained.
The objective is to provide theoretical sessions followed by intensive hands-on experience in both screening by visual inspection, and treatment of cervical intraepithelial neoplasia. Duration of each course is 4 to 5 days, consisting of one day for theory and 3-4 day's for hands-on experience. Faculty include doctors either from Lyon, France (e.g.,for courses held in Frenchspeaking Africa), or doctors from our different collaborating centres/project sites.
Each participant is provided with topic-related literature from peer-reviewed international scientific journals, as well as the practical manual on visual screening for cervical neoplasia and/or the beginners' manual on colposcopy and treatment of cervical intraepithelial neoplasia. For each course, the consumables as well as the screening and treatment equipment are provided by IARC.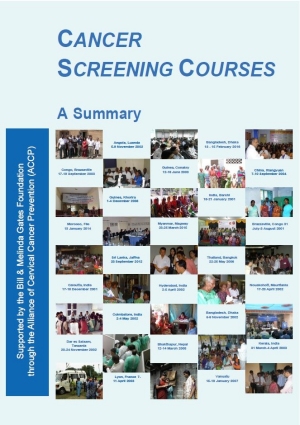 To read the ACCP training summary,
click on this link (pdf format)
Summary of our last recent courses: