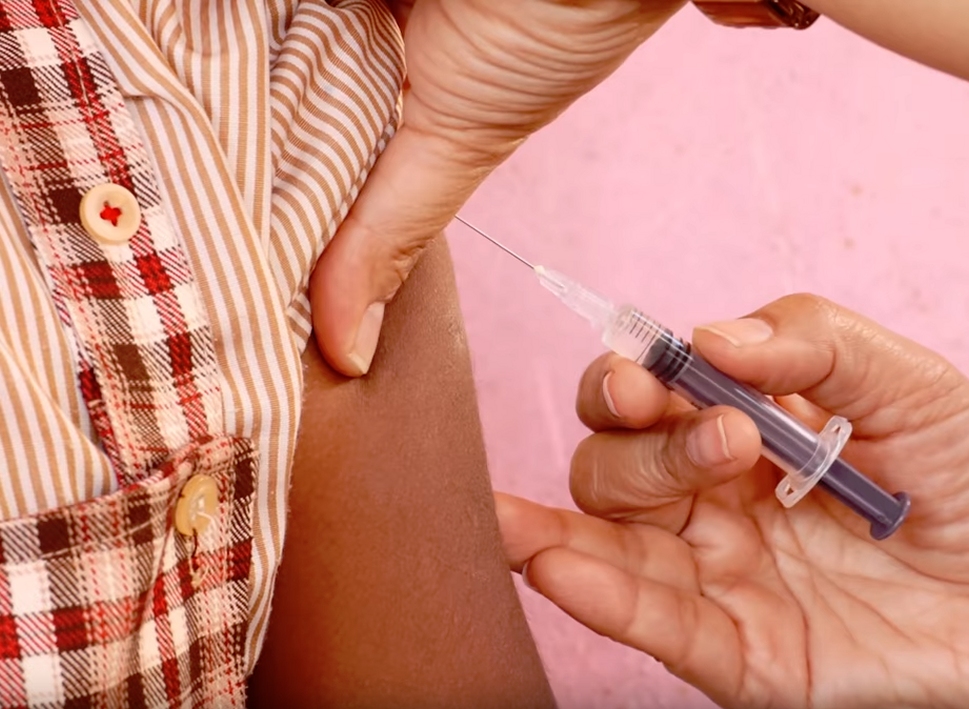 News: Evaluation of new HPV vaccine by IARC and partners supports recommendation to grant marketing authorization for the vaccine
05/07/2022
Scientists from the International Agency for Research on Cancer (IARC) were part of a unique collaboration between the Department of Biotechnology of the Government of India, the United States National Institutes of Health, and the Bill & Melinda Gates Foundation to support the evaluation of a quadrivalent human papillomavirus (HPV) vaccine manufactured by the Serum Institute of India (SII) in females and males aged 9–26 years. This unique model of public–private partnership resulted in a successful and timely completion of phase II and phase III vaccine efficacy trials, despite the threat posed by the COVID-19 pandemic. On 15 June 2022, after reviewing the study outcomes, the Subject Expert Committee (SEC) on Vaccines to advise the Drugs Controller General of India recommended granting marketing authorization for the new vaccine for females and males aged 9–26 years.
Read the
IARC news
.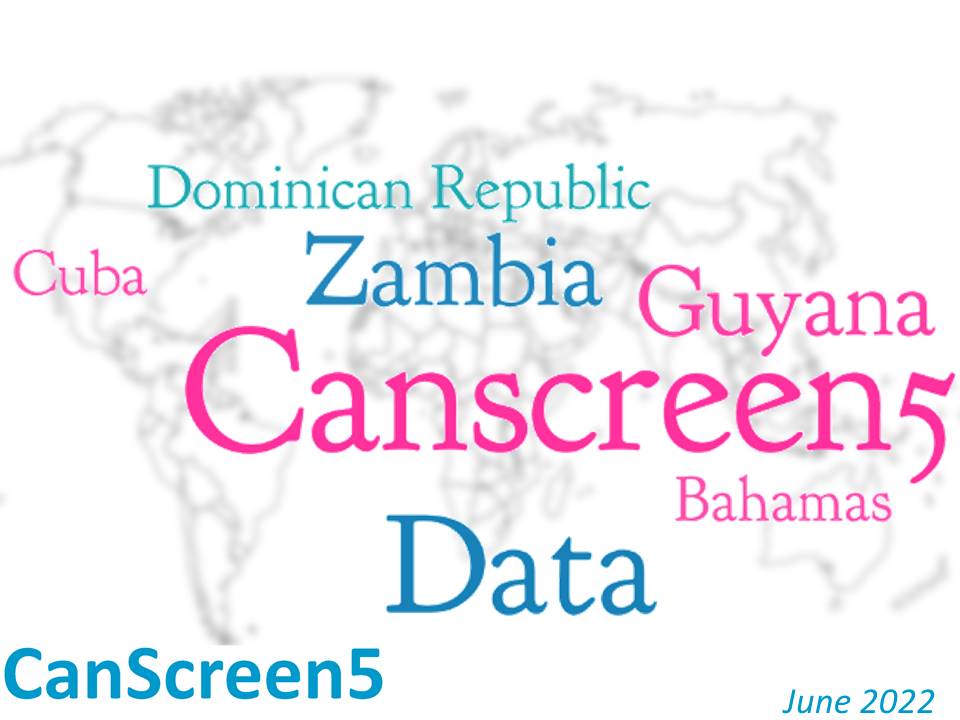 New release (June) of the CanScreen5 platform with new country data
01/07/2022
The CanScreen5 IARC Secretariat, following support of country collaborators and validation by our scientific committee, is happy to announce the availability on the CanScreen5 platform of the following country factsheets:
Bahamas
,
Cuba
,
Dominican Republic
,
Guyana
, and
Zambia
.
Visit the CanScreen5 website
to explore characteristics and performance of cancer screening programmes across the globe in more than 76 countries.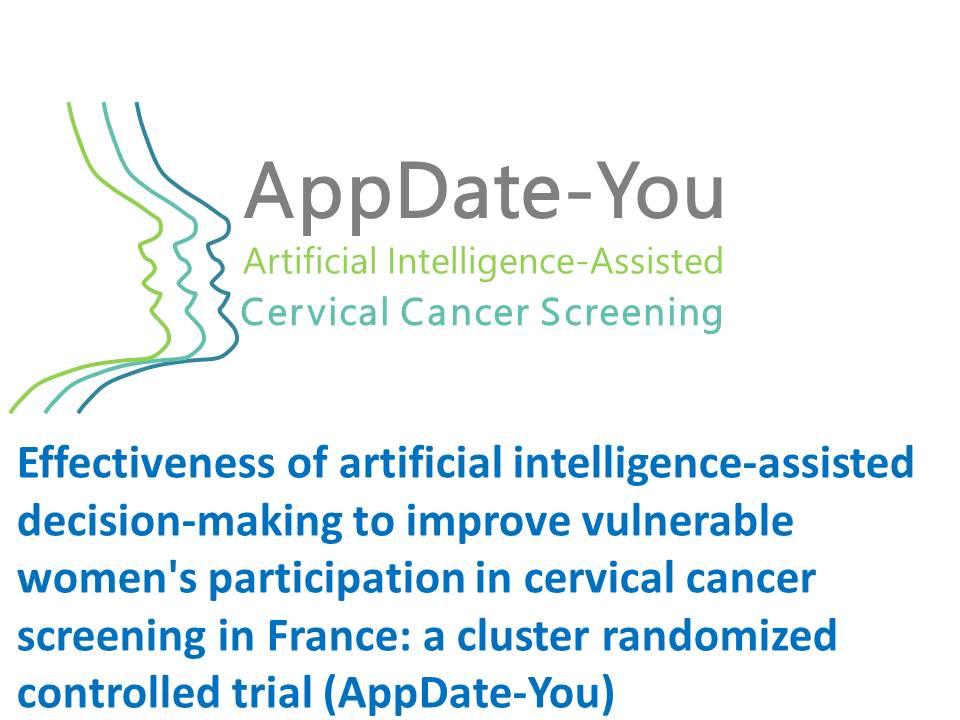 New publication: Effectiveness of artificial intelligence-assisted decision-making to improve vulnerable women's participation in cervical cancer screening in France: a cluster randomized controlled trial (AppDate-You)
03/06/2022
This new article describes the protocol AppDate-You of a two-arm cluster randomized controlled trial to be conducted in the Occitanie region, France. The objective of the study is to evaluate the effectiveness of a chatbot-based decision aid to improve vulnerable women's participation in the HPVss detection-based CCS care pathwayin the HPVss detection-based CCS care pathway. This study is supported by The French National Cancer Institute (INCa).
View the
article
.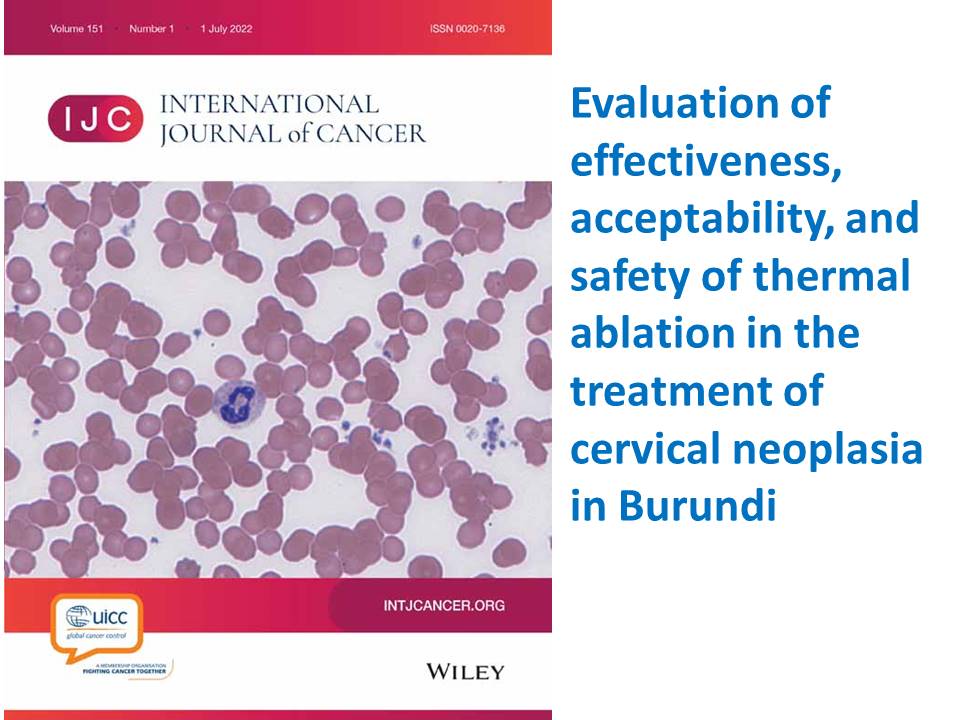 New publication: Evaluation of effectiveness, acceptability, and safety of thermal ablation in the treatment of cervical neoplasia in Burundi
23/05/2022
Cervical cancer remains a major public health issue in resource-constrained settings. Appropriate management of precancer lesions is a key strategy to achieve cervical cancer elimination. Many low-income countries provide cryotherapy as ablative treatment while thermal ablation (TA) is a more practical and sustainable alternative, although more evidence is needed. This article published in IJC, reports the efficacy of thermal ablation based on the cure rate at 12 months and its potential use in the context of the "screen-and-treat" approach in Burundi.
View the
article
.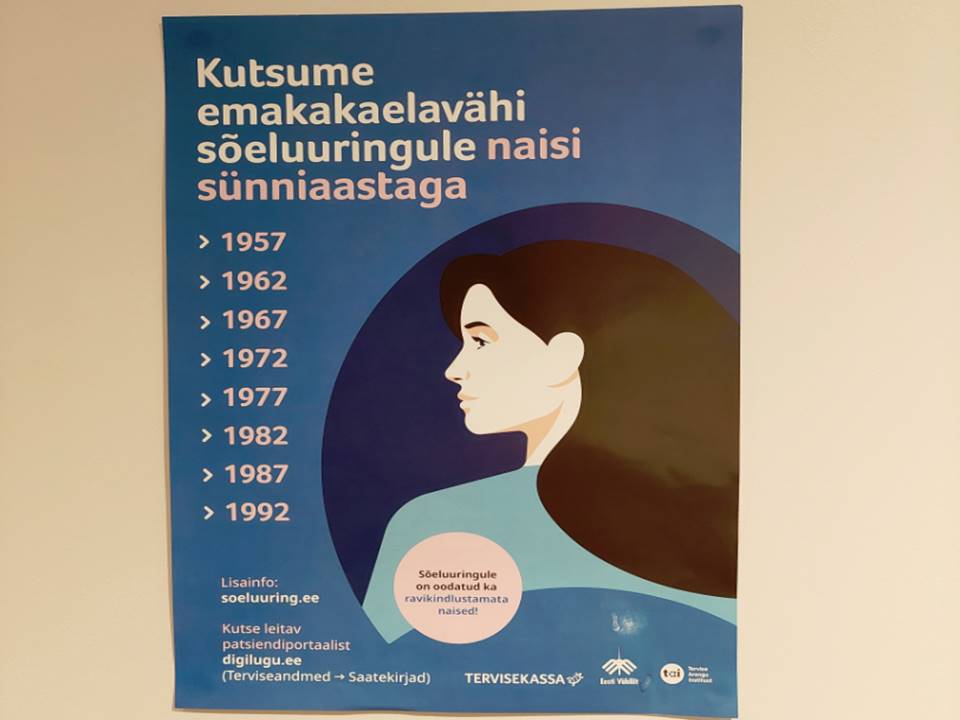 CBIG-SCREEN project: field visit to Estonia
16-05-2022 – 19-05-2022
Estonia is the second country visited within the CBIG-SCREEN project to assess the capacity of cervical cancer screening related services. Drs Isabel Mosquera and Keitly Mensah travelled to screening, and colposcopy and treatment facilities in Tallinn and the county of Ida-Viru. This capacity assessment is key to develop the intervention in a later phase of the project.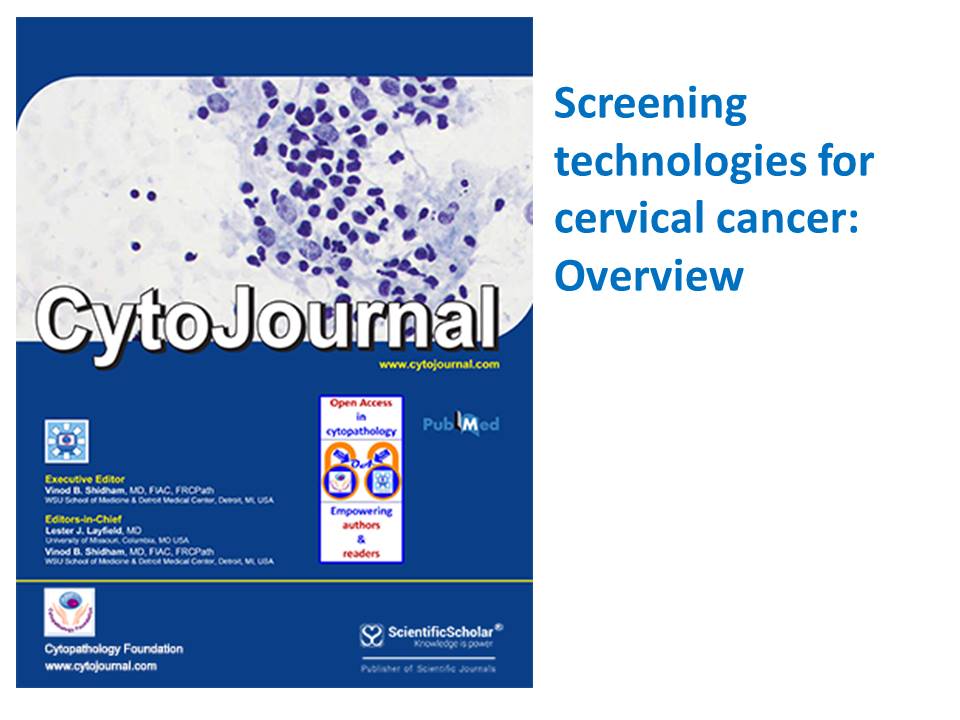 New publication: Screening technologies for cervical cancer: Overview
16/05/2022
This new article reviewed all cervical screening tools and technologies available currently like cytology, liquid based cytology, HPV testing, visual screening tests (e.g. VIA) and discussed about the strategies to manage of women positive any screening test.
View the
article
.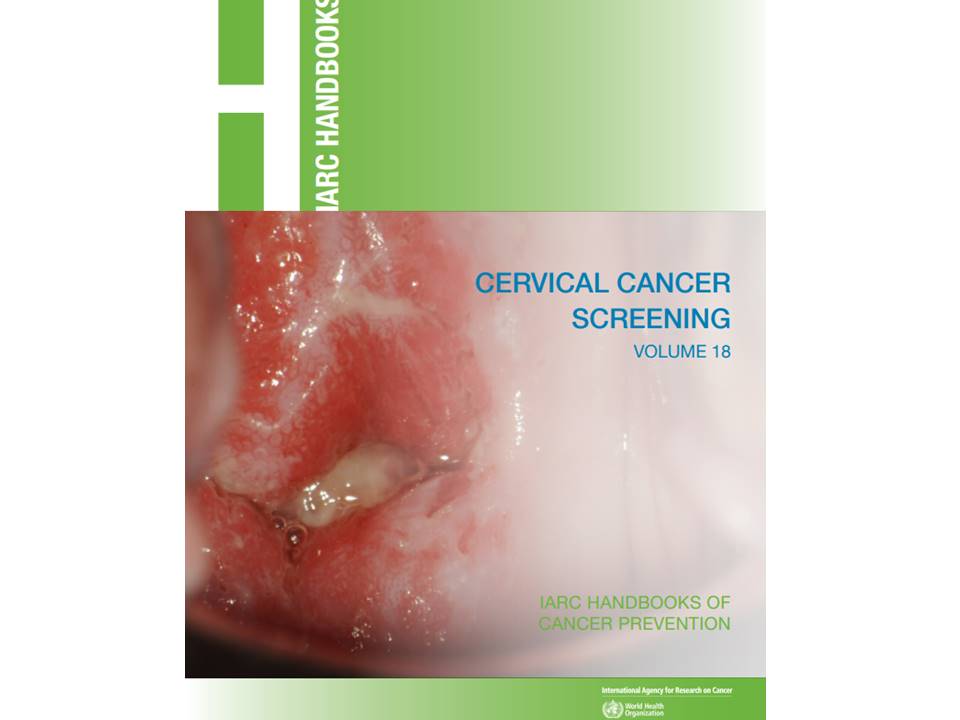 Publication of IARC Handbooks of Cancer Prevention Volume 18: Cervical Cancer Screening
06/05/2022
This publication is an important update of the previous IARC Handbook on cervical cancer screening (Volume 10, published in 2005). Volume 18 provides evidence-based evaluations of the effectiveness of five methods of cervical cancer screening in reducing cervical cancer incidence and/or mortality. The Working Group also reviewed the body of evidence and provided conclusive statements on the comparative effectiveness of those screening methods that are established to reduce cervical cancer incidence and/or mortality. In addition, the Working Group provided an updated literature review on the determinants of participation in screening programmes and on emerging techniques, as well as on the different categories of women at differential risk and the surveillance strategies for such women.
View the
publication
.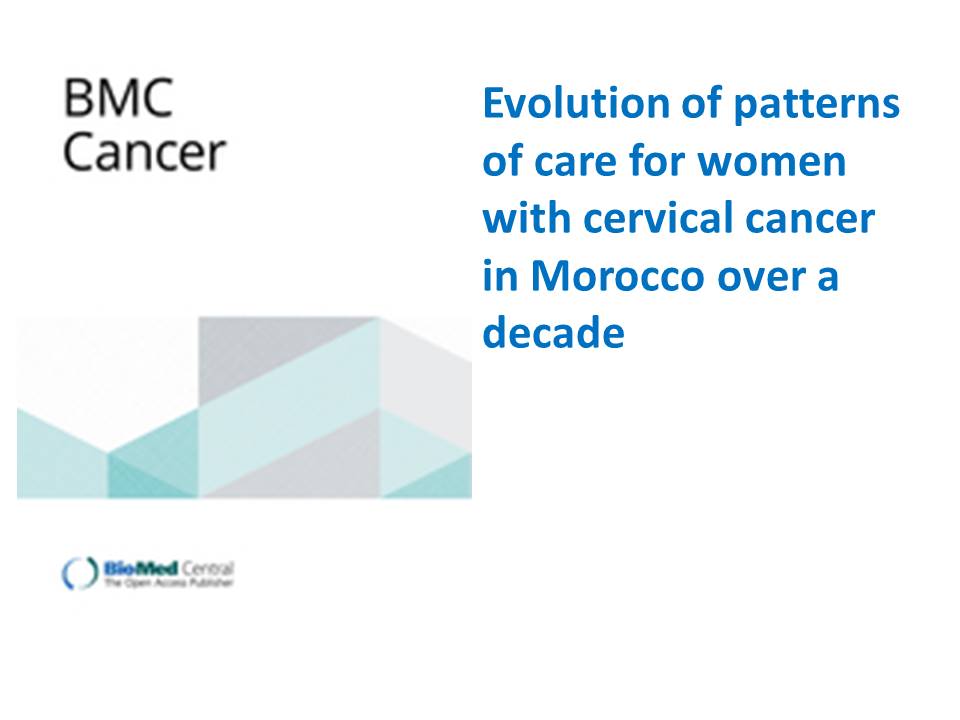 New publication: Evolution of patterns of care for women with cervical cancer in Morocco over a decade
03/05/2022
Authors of this article published in BMC Cancer, reported a pattern of care study at two premier-most public-funded oncology centers in Morocco to evaluate delays in care continuum and adherence to internationally accepted treatment guidelines of cervical cancer. This study highlighted there is room for significant improvement through reduction in delays in care and better adherence to internationally recommended treatment guidelines. Increased use of chemoradiation and brachytherapy will improve survival further.
View the
article
.

Visitor: Dr Manikanda Sakthivel
02/05/2022 – 01/06/2022
Dr Manikanda Sakthivel will work with IARC supervisor and other scientists to plan a protocol and data collection tools for a collaborative study between his Institute and IARC to evaluate the value of navigation in improving cancer screening participation in India. He will also get an opportunity to learn sample size calculation from our statistician. The training will help in his future career as a public health expert with special interest in cancer screening.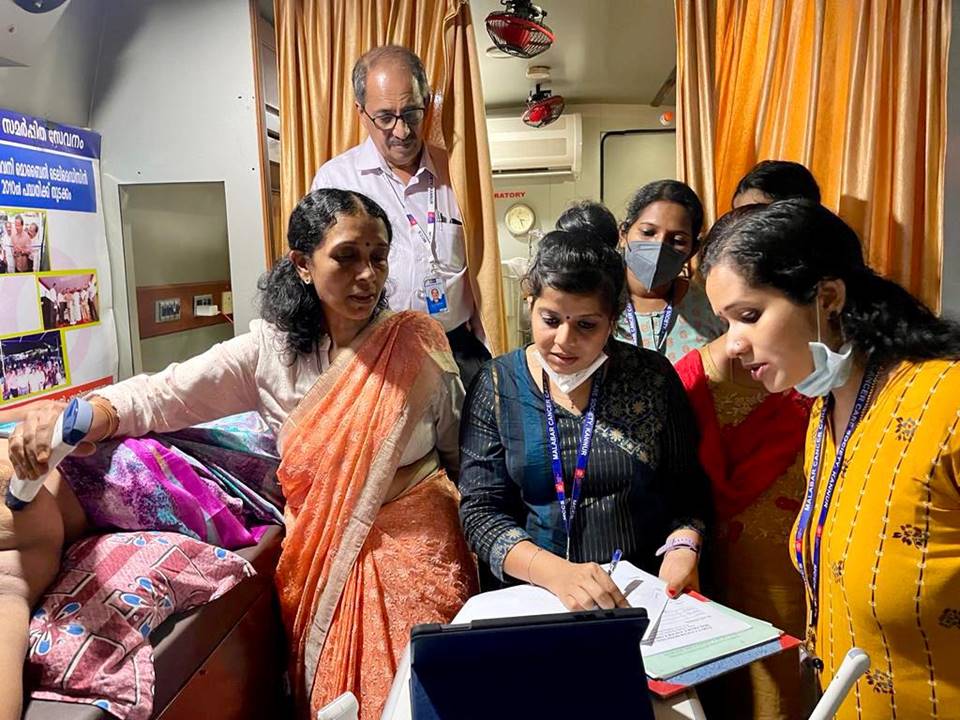 Training for non-radiologist clinicians to perform breast ultrasound and manage lesions suspicious of cancer
02/05/2022 – 06/05/2022
Within the framework of the project, Evaluation of a portable ultrasound device to triage the women positive on clinical breast examination by trained healthcare workers and medical officers, organized in Kannur, India by the Malabar Cancer Society in collaboration with BARC and IARC, staff involved in this project were trained to perform breast ultrasound on CBE positive women and learn to differentiate features of benign breast lesions from the suspicious and malignant ones.