The core function of the Screening Group (SCR) at IARC is to provide data on the accuracy, reproducibility, efficacy, benefits, harmful effects, and cost-effectiveness of various early detection interventions for breast, cervical, colorectal, and oral cancers, among others, in reducing deaths and improving patients' quality of life in various settings. These data can then be used to inform and improve the rational use of health-care resources. The Group's ultimate objective is to guide the development of public health policies for implementing screening in a variety of health-care settings, in particular in low- and middle-income countries (LMICs).
SCR conducts field studies in LMICs to evaluate various early detection methods for breast, cervical, colorectal, and oral cancer control. These initiatives also address the means by which screening services could be scaled up through local public health services. SCR develops various training resources to catalyse and augment capacity building in close collaboration with national institutions and government health services. Through its research programme, SCR generates scientific evidence to support the development of resource-appropriate early detection policies and health systems for the delivery of effective early services. The Cancer Screening in 5 Continents (CanScreen5) project of the Group aims to collect information on characteristics and performance of cancer screening programmes around the world and disseminate such information for informed decision making in cancer screening programmes. For example, the Group significantly contributed also to the evaluation of the safety and efficacy of less than three doses of the HPV vaccine in protecting against cervical cancer.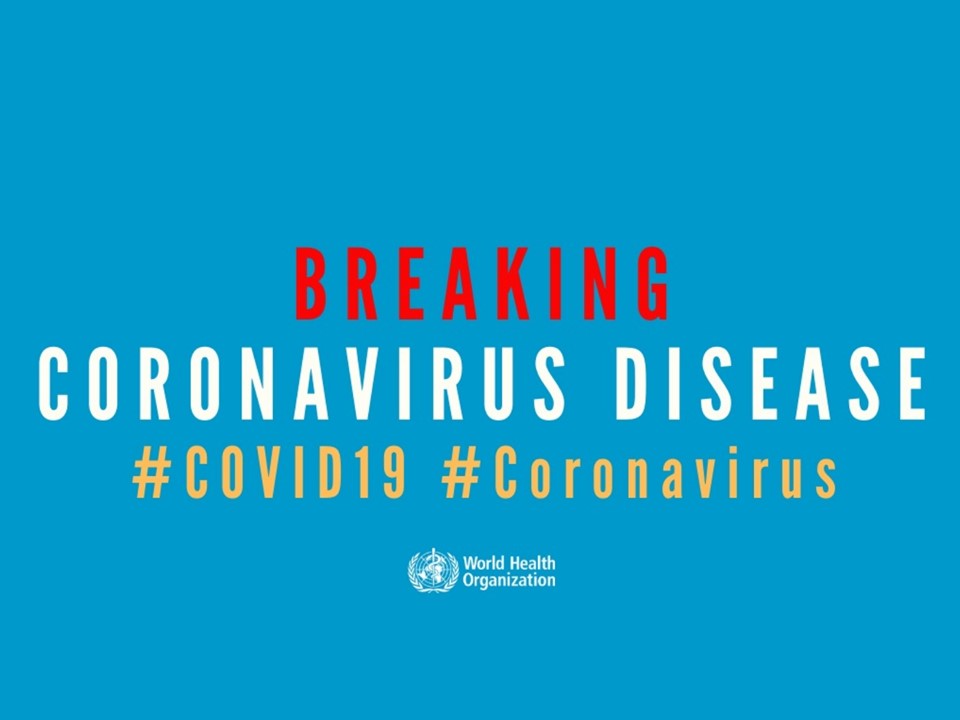 EMERGENCY: Coronavirus disease (COVID-19) Pandemic
16/03/2020
Regular updates on the coronavirus disease (COVID-19) outbreak are available at the WHO website
.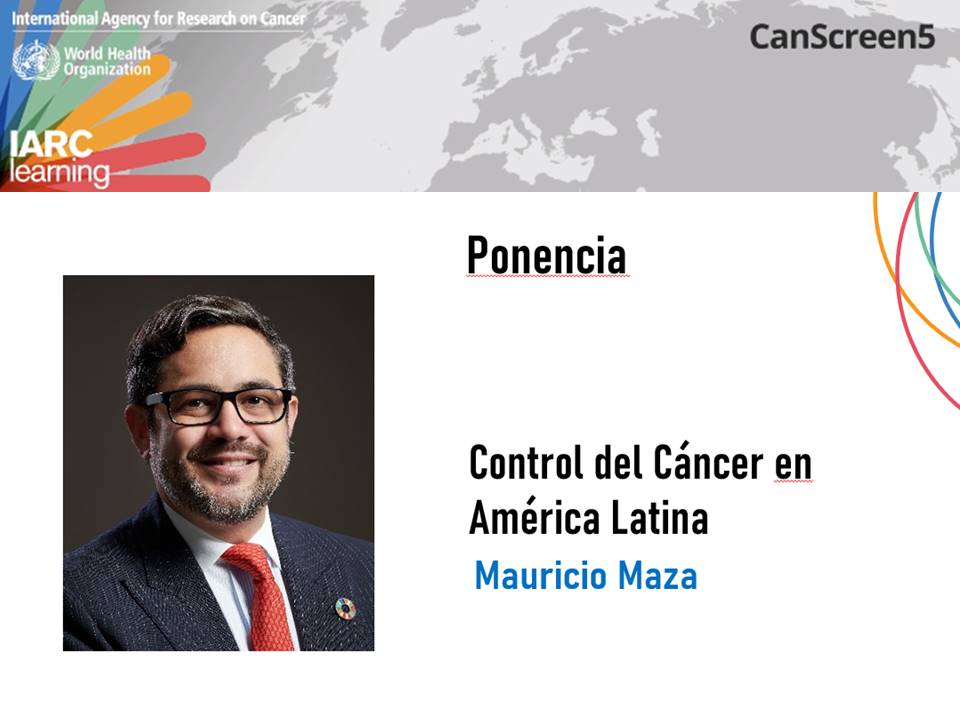 First live session of CanScreen5 Train the Trainers learning programme to Latin American countries
14/10/2021
The fourth CanScreen5 Train the Trainers learning programme has held its first live session. The fourteen participants from five countries attended a keynote lecture from Dr Mauricio Maza, PAHO regional advisor for cancer prevention and control. Dr Maza presented the situation of cancer control in Latin America and explained the ongoing projects in the region.
Learn more about the
CanScreen5 platform
and our project to
reduce inequalities in cancer screening in CELAC region
.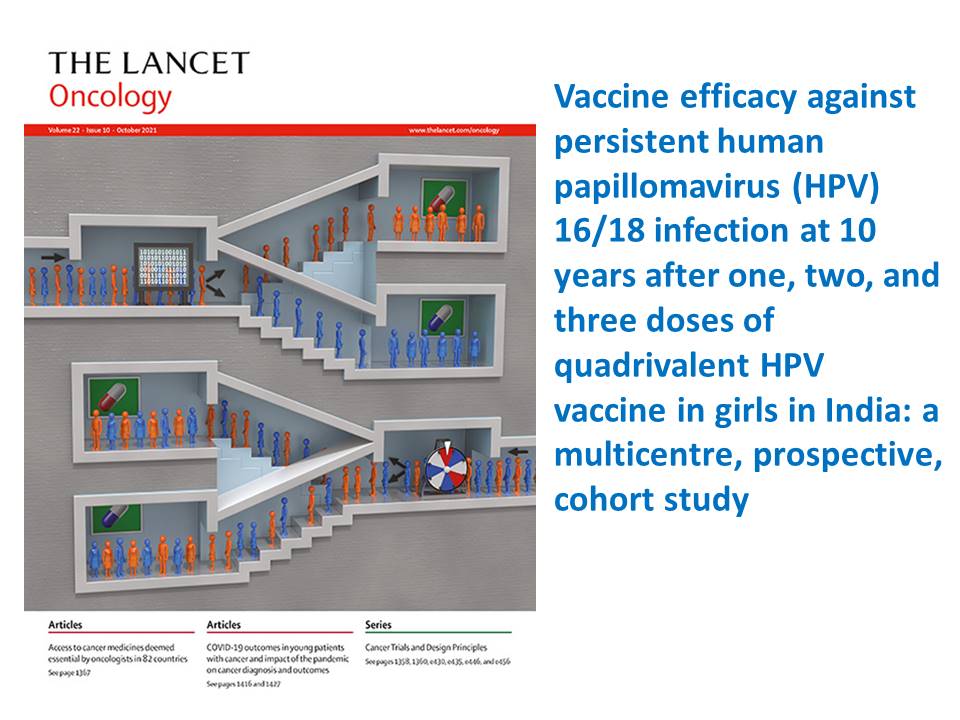 New publication: Vaccine efficacy against persistent human papillomavirus (HPV) 16/18 infection at 10 years after one, two, and three doses of quadrivalent HPV vaccine in girls in India: a multicentre, prospective, cohort study
11/10/2021
IARC scientists have demonstrated, for the first time, the efficacy of a single dose of the human papillomavirus (HPV) vaccine in adolescent girls against persistent infection with HPV types 16 and 18. A single dose of HPV vaccine provides similar protection against persistent infection from HPV 16 and 18, the genotypes responsible for nearly 70% of cervical cancers, to that provided by two or three doses. The researchers' findings could signal a fundamental shift in the accessibility of vaccination against HPV. These results were published in the journal The Lancet Oncology.
View the publication
, and the
IARC news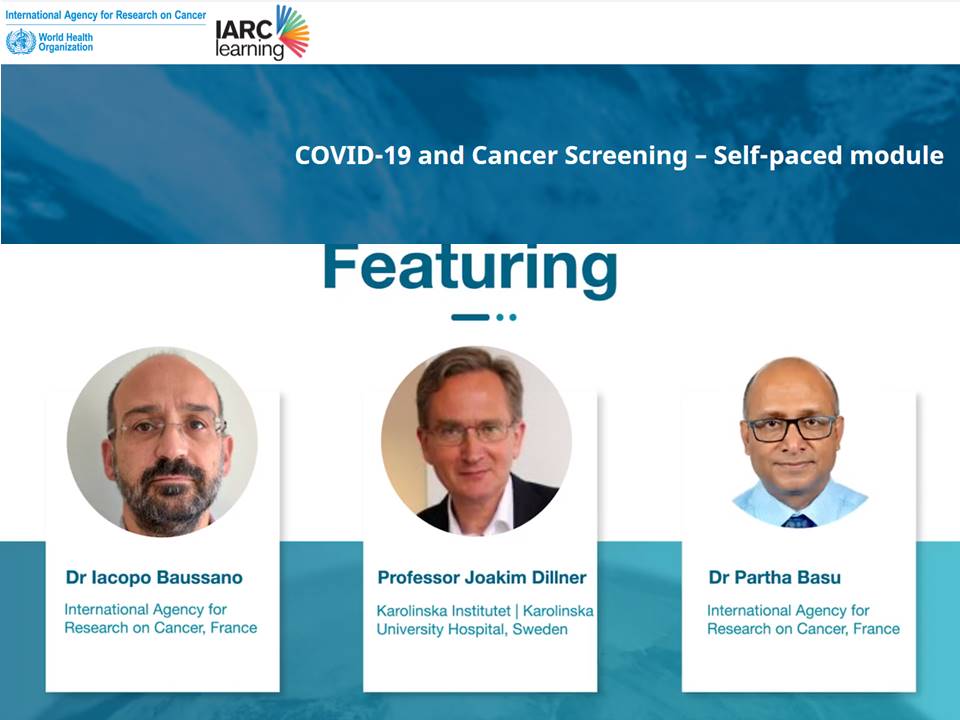 World Cancer Report Update Webinar - The Impact of Covid-19 on Cancer Screening
06/10/2021
What are the consequences of COVID-19 for cancer screening? What challenges have been encountered by countries? What could be turned into an opportunity, and what lessons have been learned? Could the lessons learned help countries to "build back better"? The webinar addresses these questions and provides examples from low-income and high-income countries. Professor Joakim Dilner and Dr Partha Basu discussed about COVID-19 and cancer screening during this webinar chaired by Dr Iacopo Baussano.
View the
webinar and the self-pace module
.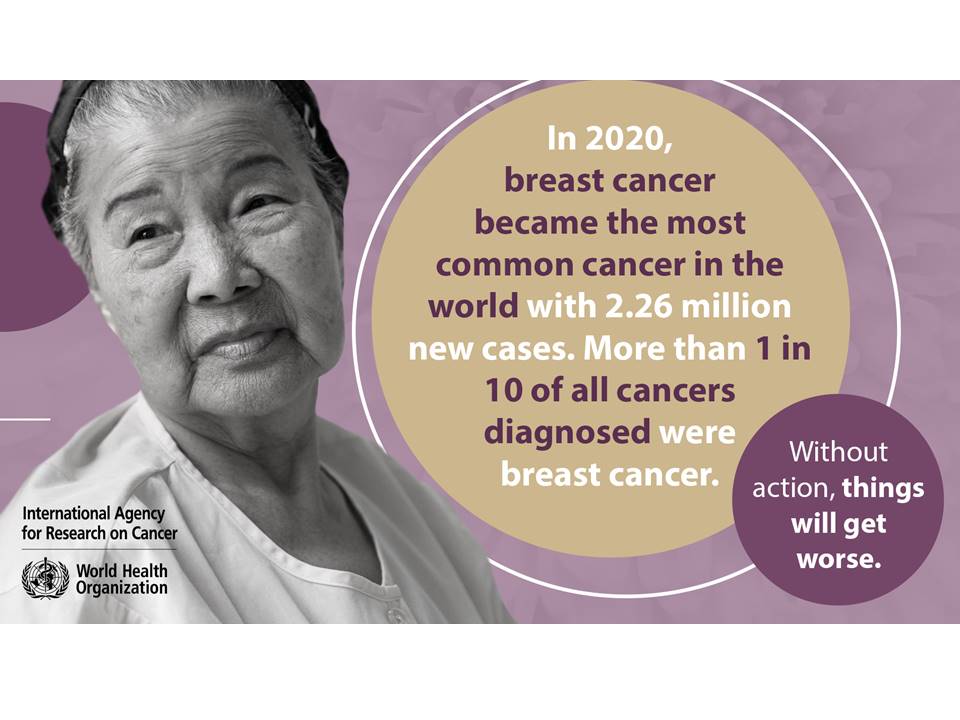 Breast Cancer Awareness Month 2021
01/10/2021
Breast cancer is the most common cancer among women worldwide, impacting 2.26 million women each year. Early detection through screening helps improve survival rates.
View the
Breast Cancer Awareness Month 2021
IARC page to learn more about the global burden of breast cancer.
Basu P., Malvi S.G., Joshi S., Bhatla N., Muwonge R., Lucas E., Verma Y., Esmy P., Poli U.R.R., Shah A., Zomawia E., Pimple S., Jayant K., Hingmire S., Chiwate A., Divate U., Vashist S., Mishra G., Jadhav R., Siddiqi M., Sankaran S., Prabhu P.R., Kannan T.P.R.A., Varghese R., Shastri S.S., Anantharaman D., Gheit T., Tommasino M., Sauvaget C., Pillai M.R., Sankaranarayanan R. Vaccine efficacy against persistent human papillomavirus (HPV) 16/18 infection at 10 years after one, two, and three doses of quadrivalent HPV vaccine in girls in India: a multicentre, prospective, cohort study. Lancet Oncol, Published online 8 October 2021.
PMID: 34634254
Ringborg U., Berns A., Celis J.E., Heitor M., Tabernero J., Schuz J., Baumann M., Henrique R., Aapro M., Basu P., Beets-Tan R., Besse B., Cardoso F., Carneiro F., van den Eede G., Eggermont A., Frohling S., Galbraith S., Garralda E., Hanahan D., Hofmarcher T., Jonsson B., Kallioniemi O., Kasler M., Kondorosi E., Korbel J., Lacombe D., Carlos Machado J., Martin-Moreno J.M., Meunier F., Nagy P., Nuciforo P., Oberst S., Oliveiera J., Papatriantafyllou M., Ricciardi W., Roediger A., Ryll B., Schilsky R., Scocca G., Seruca R., Soares M., Steindorf K., Valentini V., Voest E., Weiderpass E., Wilking N., Wren A., Zitvogel L. The Porto European Cancer Research Summit 2021. Mol Oncol. 2021 Sep 13. doi: 10.1002/1878-0261.13078.
PMID: 34515408
Mrabti H., Sauvaget C., Benider A., Bendahhou K., Selmouni F., Muwonge R., Alaoui L., Lucas E., Chami Y., Villain P., Abousselham L., Carvalho A.L., Bennani M., Errihani H., Sankaranarayanan R., Bekkali R., Basu P. Reply to: Chronic pain assessment and management during post-treatment follow up should be considered as a high value quality indicator for specialist breast cancer center. Breast. 2021 Sep 6:S0960-9776(21)00457-4. doi: 10.1016/j.breast.2021.09.003.
PMID: 34509362