Home
/
Training
/
Manuals
/
Cytopathology of the uterine cervix - digital atlas
/ Trichomonas vaginalis
Cytopathology of the uterine cervix - digital atlas
Trichomonas vaginalis
Filter by language:
English
/
Franšais
/
Portugues
/
中文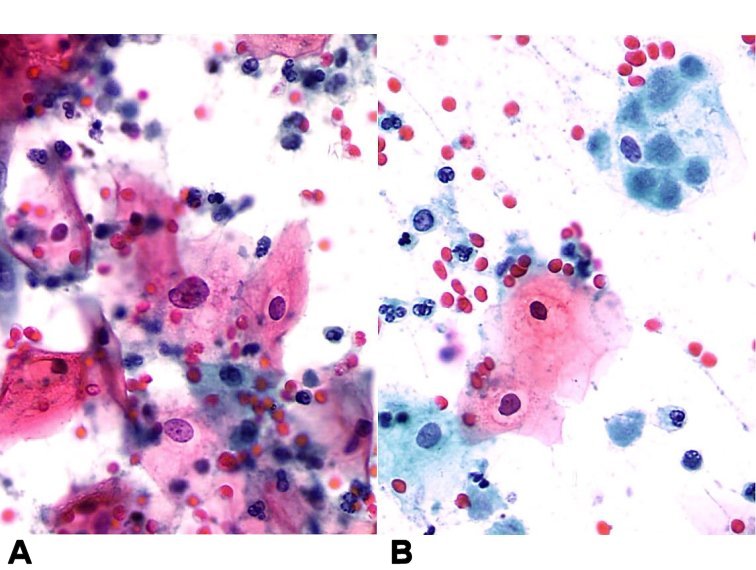 Inflammatory ectocervix: cells with a clear perinuclear halo and a nucleus increased in size: avoid a diagnosis of ASC-US or LSIL (field A). Trichomonas vaginalis infection with visible parasites (field B). (obj. 40x)
---
picture quality:

On a scale of 1 to 5 stars, with 5 stars being the best quality
131 of 245 people found the following comment helpful:
Reviewer:
detection of T vaginalis

icannt identify the parrasite in field B.in this case what can i write in the result form without using ASC-US and how i can direct the clinician to search for trichimonais;although this findings can also seen in HPV and other infectious organisms.Field A there is focal mild irreglar nuclear membrane this ia an irrelevant finding and how i can be sure that this cytological findings goes with reactive changes not neoplastic inflammatory
Was this comment helpful to you?


(
Report this content as inappropriate on the site
)
---
IARC, 150 Cours Albert Thomas, 69372 Lyon CEDEX 08, France - Tel: +33 (0)4 72 73 84 85 - Fax: +33 (0)4 72 73 85 75
© IARC 2018 -
All Rights Reserved
.