Home
/
Training
/
Manuals
/
Cytopathology of the uterine cervix - digital atlas
/ ASC-US, yes or no?
Cytopathology of the uterine cervix - digital atlas
ASC-US, yes or no?
Filter by language:
English
/
Franšais
/
Portugues
/
中文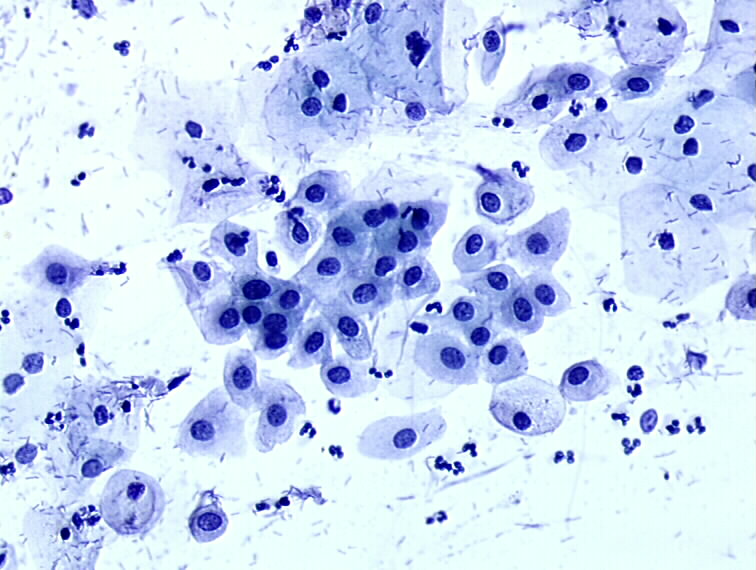 Parabasal cells with enlarged nuclei. This change is not typical of ASC-US. (obj. 20x)
---
picture quality:

On a scale of 1 to 5 stars, with 5 stars being the best quality
8 of 14 people found the following comment helpful:
Reviewer:
Stunned.. not one question on this picture..

Why atrophy and not squamous metaplasia? Seeing how distinguishing squamous metaplasia from atrophy is a common cytologic dilemma. The hallmarks of atrophy are parabasal and basal cells. Atrophic cells are often accompanied by undifferentiated basaloid cells, whereas immature metaplastic cells are often accompanied by intermediate-sized mature metaplastic cells. Check out the single basal cell on the bottom and a few in the middle left. The dirty background points you more towards atrophy, although it is not specific. Atrophic cells tend to dominate the slide, while metaplastic cells are most limited.
Was this comment helpful to you?


(
Report this content as inappropriate on the site
)
---

(*) this proposal is suggested by the authors.
IARC, 150 Cours Albert Thomas, 69372 Lyon CEDEX 08, France - Tel: +33 (0)4 72 73 84 85 - Fax: +33 (0)4 72 73 85 75
© IARC 2018 -
All Rights Reserved
.